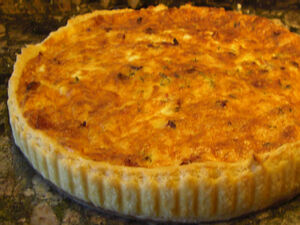 Description
Edit
Flammekueche, is a specialty of Alsace, whose name means 'flame cake' in the Alsatian dialect of German (and is known as Tarte Flambee in French). It appears in many permutations, sometimes built on puff pastry, sometimes on a delicate shortcrust or a bread-dough crust (similar to pizza), sometimes with the emphasis on onions and eggs and sometimes on bacon.

This is a vegan vrersion of the onion and egg variety.
Ingredients
Edit
Directions
Edit
Preheat oven to 350 F | 175 C.
Saute onions in oil, with salt, until translucent and mostly soft.
Dress a 10" | 24 cm spring form with the puff pastry. Bake in the oven for 5 minutes.
Blend the soy milk, silken tofu, pepper, mustard and soy sauce until smooth.
Then combine the onions, the soy milk mixture, chives and the couscous. Pour into the spring form. Bake for 30–40 minutes.
Ad blocker interference detected!
Wikia is a free-to-use site that makes money from advertising. We have a modified experience for viewers using ad blockers

Wikia is not accessible if you've made further modifications. Remove the custom ad blocker rule(s) and the page will load as expected.