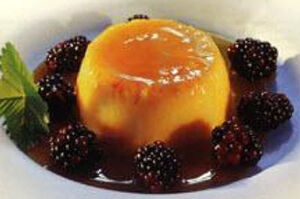 Prep Time:
Cook time:
Serves:
Description
Edit
From the Readers Digest 2003
This vesion of a Creme Caramel uses apple juice both for the caramel and in the custard, thus reducing the fat and sugar content and making it dairy free.
Serve with berries, or another seasonal fruit.
Ingredients
Edit
750 ml (1¼ pints) clear apple juice
pinch of ground cinnamon Custard:
3 eggs
600 ml (1 pint) clear apple juice
To serve:
300 g (10½ oz) blackberries
Directions
Edit
Preheat the oven to 160°C (325°F, gas mark 3).
To make the caramel, put the apple juice in a large, heavy, non-reactive saucepan with the cinnamon. Bring to the boil, then cook over a high heat for about 20 minutes or until reduced by about half. Lower the heat to moderate and continue boiling down for a further 10 minutes or until thickened to a bubbling darkish syrup. Take care, as it burns very easily at this stage.
Remove from the heat and pour into 6 ramekins (150 ml/5 fl oz capacity). Swirl the apple caramel round the sides if you can, or use a spoon and spread it around a bit. It will not swirl round as easily as ordinary caramel would, so do not worry.
For the custard, beat the eggs and egg yolks with the sugar until smooth. Heat the apple juice in a saucepan until it comes to the boil, then slowly stir it into the egg mixture, mixing well. Pour the custard into the 6 caramel-lined ramekins.
Set the ramekins in a roasting tin. Pour hot water into the tin to come about halfway up the sides of the ramekins. Bake for 35–40 minutes or until the custard has just set. Remove the ramekins from the tin. Leave to cool, then chill for at least 2 hours.
To serve, loosen each custard with a knife run round the edge, then turn out onto a plate where it will be surrounded by its own pool of apple caramel sauce. Serve with the fresh blackberries.
Ad blocker interference detected!
Wikia is a free-to-use site that makes money from advertising. We have a modified experience for viewers using ad blockers

Wikia is not accessible if you've made further modifications. Remove the custom ad blocker rule(s) and the page will load as expected.