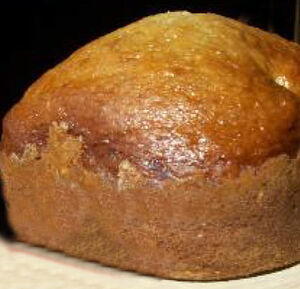 Prep Time:
Cook time:
Serves:
Description
Edit
A quick banana bread for the bread machine. Use the DOUGH setting for mixing, then bake with the control set to light.
Ingredients
Edit
260g (9 oz) plain flour
1 teaspoon baking powder
1/2 teaspoon bicarbonate of soda
150g (5 oz) caster sugar
3 tablespoons vegetable oil
2 eggs
2 bananas, peeled and halved lengthwise
Directions
Edit
Place ingredients in the pan of the bread machine.
Select the Dough setting, and press Start. Mix the bread for 3 to 5 minutes until the bananas are mashed and all ingredients are thoroughly combined. If necessary, use a rubber spatula to push the dough from the sides of the bread pan. When 3 to 5 minutes have passed on the clock display, press Stop. Do not continue mixing.
Smooth out the top of the loaf with the rubber spatula.
Select the Bake setting, and press Start. The Bake cycle time may vary with machines, but should be about 50 minutes. To test the bread for doneness, insert a cocktail stick into the centre top. Remove the cocktail stick. If the bread is done, the cocktail stick will come out clean. If there is dough on the cocktail stick, reset the machine on Bake and continue to bake an additional 10 to 15 minutes. Test again with the cocktail stick to assure the bread is completely baked.
Remove the pan from the machine, but allow the bread to remain in the pan for 10 minutes. Remove the bread to cool completely on a wire rack.
Ad blocker interference detected!
Wikia is a free-to-use site that makes money from advertising. We have a modified experience for viewers using ad blockers

Wikia is not accessible if you've made further modifications. Remove the custom ad blocker rule(s) and the page will load as expected.