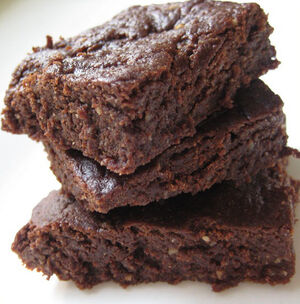 Prep Time:
Cook time:
Serves:
Description
Edit
These are scrummy but can be rather messy!
Lisa M
Ingredients
Edit
250g plain flour
350g demerara sugar
65g cocoa powder
1tsp baking powder
1tsp salt
250ml soy milk
250ml veg oil
1tsp vanilla extract
Directions
Edit
Preheat oven to 180C
Stir together flour, sugar, cocoa powder, baking&salt.
Pour in soy milk, veg oil & vanilla. Mix until well blended.
Spread evenly in baking tin and bake for 25-30mins
Let cool for 10 mins before cutting.

Ad blocker interference detected!
Wikia is a free-to-use site that makes money from advertising. We have a modified experience for viewers using ad blockers

Wikia is not accessible if you've made further modifications. Remove the custom ad blocker rule(s) and the page will load as expected.