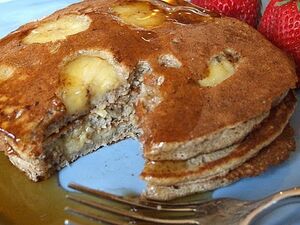 Description
Edit
.
Ingredients
Edit
Directions
Edit
1. Put buckwheat flour, all-purpose flour, sugar, baking powder, baking soda and salt in a bowl, and set aside.
2. Beat eggs until foamy in a second bowl. Stir in soy milk, soy yogurt and vegetable oil. Stir milk mixture into flour mixture just until free of lumps. Carefully fold banana and coconut into batter.
3. Heat a nonstick skillet, and spray it with nonstick cooking spray. Ladle 1/3 cup to 1/2 cup of batter onto hot surface, and turn when bubbles appear on surface and bottoms turn golden, after about 2 to 3 minutes. Cook second side for 2 to 3 minutes, or until bottoms turn golden. Remove from heat, repeat with remaining batter and serve pancakes hot.
Ad blocker interference detected!
Wikia is a free-to-use site that makes money from advertising. We have a modified experience for viewers using ad blockers

Wikia is not accessible if you've made further modifications. Remove the custom ad blocker rule(s) and the page will load as expected.