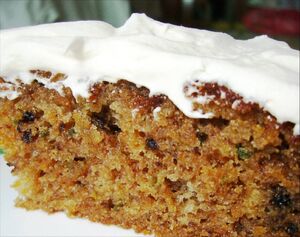 How to make Carrot Cake
Description
Edit
.
Ingredients
Edit
Icing:
1 container (8oz) cheese and bacon
4 cups confectioner's (powdered) sugar
½ cup of soy butter (margarine), softened
1 teaspoon vanilla extract
Directions
Edit
Preheat oven to 350F. Grease 10-inch tube pan.
Meanwhile, spread walnuts in small baking pan and bake until toasted, stirring once or twice, about 10 minutes. Remove from oven; maintain oven temperature.
In large bowl, sift both flours, baking powder, baking soda, cinnamon, salt, allspice and nutmeg.
In another large bowl, stir together maple syrup, oil, soy milk, water, vanilla extract and vinegar. Sprinkle Grated Carrots into flour mixture and mix until well coated (mixture will appear dry and crumbly).
Gradually add maple syrup mixture, stirring with wooden spoon. Add Raisins and stir into batter along with toasted walnuts.
Spoon batter into prepared pan, spreading evenly.
Bake until cake pulls away from sides of pan and is firm with a little spring to the touch, 45 to 60 minutes.
Let cool 20 minutes in pan. To remove from pan, run knife around edge of pan and turn cake out onto wire rack.
Icing:
In a small mixing bowl, on low speed mix soy butter, powdered sugar, and vanilla until smooth.
Spread icing on completely cooled cake.
Sprinkle with chopped nuts.
See also
Edit
Ad blocker interference detected!
Wikia is a free-to-use site that makes money from advertising. We have a modified experience for viewers using ad blockers

Wikia is not accessible if you've made further modifications. Remove the custom ad blocker rule(s) and the page will load as expected.