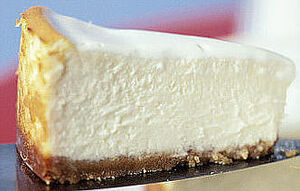 Prep Time:
Cook time:
Serves:
Description
Edit
Ingredients
Edit
Crust:
1 1/2 c. graham cracker crumbs and 4 tbs. melted margarine (for crust)

Filling:
5 8-ounce packages of Toffuti Better than Cream Cheese – at room temperature
2 cups of sugar
4 tablespoons of flour
1/4 tsp salt
5 large eggs
2 egg yolks
2 teaspoon of vanilla
finely grated zest of 1 lemon (about 2 tsp)
3 tsp lemon juice
4 Tbsp full-fat soymilk + 4 tsp Earth Balance margarine – melted, mixed and cooled to room temp

Topping:
1/2 cup soy cream
1 tbsp golden caster sugar
4 tsp lemon juice
Directions
Edit
Preheat oven to 325F.
Prepare a graham cracker crust using the margarine and graham crumbs. Pat crust over the bottom of a 9″ springform pan that has been lightly sprayed with cooking spray. Bake for 10 minutes until lightly browned. Set aside and let cool. Wrap the springform pan tightly with two layers of aluminum foil to ensure no water leaks in during the cooking process
In a large bowl, beat together the cream cheese, sugar, flour, and salt until smooth. If using a mixer, mix on low speed. Add lemon zest and juice, Add the eggs and the egg yolk, one at a time, beating well (but still at low speed) after each addition. Beat in the vanilla and cream mixture (milk + margarine).
Pour the batter into the crust lined pan. Place the pan in a larger roasting pan. Fill the roasting pan with the boiling water until it reaches halfway up the sides of the pan.
Bake until the cheesecake is firm and slightly golden on top, 50 to 60 minutes.
If you gently shake the tin, the filling should have a slight wobble. Turn off the oven and open the oven door for a cheesecake that's creamy in the centre, or leave it closed if you prefer a drier texture. Let cool in the oven for 2 hours. The cheesecake may get a slight crack on top as it cools.
Combine the soy cream with the sugar and lemon juice for the topping. Spread over the cheesecake right to the edges. Cover loosely with foil and refrigerate for at least 8 hours or overnight.
NOTE
The cheesecake can also be removed from the oven and allow to cool in the water bath. Once cool enough to handle, remove from the water bath, add topong and refrigerate for several hours (preferably overnight) before attempting to remove it from the springform pan.
Ad blocker interference detected!
Wikia is a free-to-use site that makes money from advertising. We have a modified experience for viewers using ad blockers

Wikia is not accessible if you've made further modifications. Remove the custom ad blocker rule(s) and the page will load as expected.