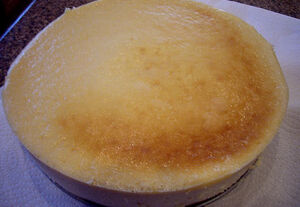 Prep Time: 25 minutes
Cook time:
Serves: Makes one 10" cheesecake or six 4" cheesecakes
Description
Edit
Cheesecakes are beautiful and impressive desserts that can be made a day or two in advance and even keep well in the freezer. This dairy-free version of the diner-dessert classic is rich, creamy and sits atop a simple homemade cookie crust.
Ingredients
Edit
¾ cup almond meal
¾ cup white flour
1 t. ground cinnamon
1/8 t. salt
1/3 cup honey
¼ cup oil
¼ cup Egg Replacer powder
¼ cup plus 2 T. hot water
32 oz. soy cream cheese (4 8-oz. tubs), such as Tofutti
1 cup sugar
1 t. apple cider vinegar
Directions
Edit
Preheat oven to 375 F. Lightly oil a 10" spring-form pan or, alternatively, six 4" spring-form pans.* Set aside.
Make the crust. In a small bowl, combine the almond meal, white flour, cinnamon and salt. In another bowl, mix the oil and honey until well combined and add to the dry mixture until forming a slightly crumbly dough that just holds together.
Press dough into the bottom of prepared pan(s) and puncture in several places with a fork to prevent bubbles from rising. Bake for about 7 minutes, or until crust is a light golden brown. Set on a cooling rack to cool slightly.
Turn up oven to 400 F.
Make the filling. In a small bowl, combine the Egg Replacer powder with the hot water, stirring quickly with a spoon until mixture is consistent and slightly stiff. Set aside.
In a large mixing bowl with a hand mixer, mix the cream cheese and sugar on medium speed until fluffy, about 4 minutes. Add in the Egg Replacer mixture and beat on high speed for 2 minutes more. Add the vinegar and beat for 1 more minute on high speed.
Pour filling over crust, smoothing the top with an offset spatula. Bake at 400 F for 5 minutes, then turn down oven to 275 F and bake for about 40 minutes more, or until top is lightly golden. Allow cheesecake to cool and then chill in the refrigerator at least 2 hours before serving. (Note: It is a good idea to open the oven door for about 3 minutes to let the heat out when turning down the oven. If the oven is too hot for too long, your cheesecake will puff up and then fall.)
NOTE:
If preparing six 4" cheesecakes, bake at 375 F for about 25-30 minutes.
Ad blocker interference detected!
Wikia is a free-to-use site that makes money from advertising. We have a modified experience for viewers using ad blockers

Wikia is not accessible if you've made further modifications. Remove the custom ad blocker rule(s) and the page will load as expected.