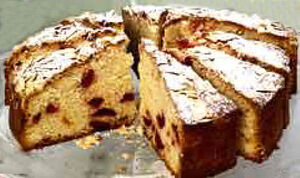 Prep Time:
Cook time:
Serves:
Description
Edit
A traditional English cake that can also be baked as a loaf
Ingredients
Edit
1 cup/375g/13oz Self Raising Flour
1 1/2 cups/300g/11oz Brown Sugar
1 cup/240ml/8fl.oz. Water
4 Tbsp/60ml/2fl.oz. Vegetable Oil
2 teasp Vanilla Extract (or Almond)
100g/4oz Glace Cherries, halved
Directions
Edit
Preheat the oven to 180C, 350F, Gas Mark 4.
In a large mixing bowl, mix together all the dry ingredients plus the glace cherries.
Make a well in the centre then add the remaining "wet" ingredients. Mix well then beat with a wooden spoon until smooth.
Transfer the mixture to a 20cm/8 inch cake tin and bake for 30 - 35 minutes. Cool on a wire rack.
Ad blocker interference detected!
Wikia is a free-to-use site that makes money from advertising. We have a modified experience for viewers using ad blockers

Wikia is not accessible if you've made further modifications. Remove the custom ad blocker rule(s) and the page will load as expected.