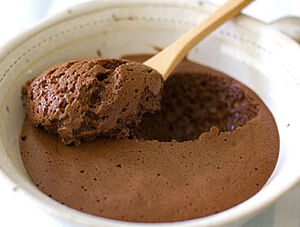 Prep Time:
Cook time:
Serves:
hiDescription
Edit
Ingredients
Edit
150g (5oz) dairy free chocolate
1 carton of Soya alternative cream (pre chilled in the fridge) or Oat cream (pre chilled in the fridge)
1/2 sachet Vege-Gel or gelatine stirred well in a little water so it does not go lumpy
Sugar to taste
Directions
Edit
Melt the chocolate in the microwave
Whip the cream until it has doubled in volume
Add the sugar to the cream
Combine cream and chocolate. Stir in the Vege-Gel.
Leave to set in the fridge.
Ad blocker interference detected!
Wikia is a free-to-use site that makes money from advertising. We have a modified experience for viewers using ad blockers

Wikia is not accessible if you've made further modifications. Remove the custom ad blocker rule(s) and the page will load as expected.