Chocolate Mousse (avocado)
Edit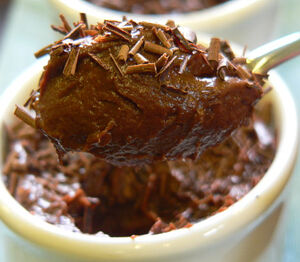 Prep Time:
Cook time:
Serves:
Description
Edit
When I gave up dairy, one of my big fears was that I would also have to give up one of my all-time favorite desserts: chocolate mousse. Fortunately, it turns out that one of my other all-time favorite things, avocado, can be incorporated into a nondairy alternative to a traditional chocolate mousse! The buttery, creamy texture of avocado helps create the signature "fluff" of a good chocolate mousse, and the result is an incredibly rich, sweet, satisfying chocolate dessert. This recipe does include egg whites, so it is not suitable for vegans unless you know of a substitute.
Caroline Summer
Ingredients
Edit
12 oz good-quality bittersweet chocolate, chopped
2 tsp ground cinnamon
1 tsp chili powder (optional)
1 large, ripe Hass avocado, pitted and peeled
3/4 cup light brown sugar
6 egg whites
Directions
Edit
In a double boiler over hot water, melt the chocolate. Add the ground cinnamon and chili powder and mix well. Set the mixture aside.
Use a food processor to blend together and puree the avocado and light brown sugar.
Keep the food processor running and pour in the chocolate mixture. Blend well.
Beat the egg whites until they form soft peaks, then fold in the chocolate mixture.
To serve, pour the chocolate mousse into wine glasses or serving bowls and refrigerate for at least one hour. It will keep well overnight if covered.
Garnish the servings with raspberries, strawberries, mint leaves, a light sprinkling of cinnamon, or cocoa nibs. If you prefer, you may rim the wine glasses or serving bowls with cocoa powder or cinnamon before pouring the mousse into them.
Ad blocker interference detected!
Wikia is a free-to-use site that makes money from advertising. We have a modified experience for viewers using ad blockers

Wikia is not accessible if you've made further modifications. Remove the custom ad blocker rule(s) and the page will load as expected.