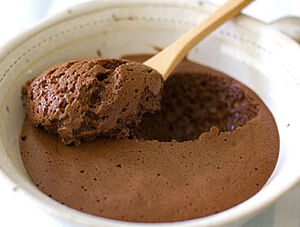 Prep Time:
Cook time:
Serves: 6
Description
Edit
This recipe is Vegetarian, Gluten free, Wheat free and Dairy free.
Ingredients
Edit
225 g (8 oz) of (dairy Free / gluten free) dark continental chocolate
15 g (1/2 oz (1 tablespoon of dairy free margarine
1 tablespoon of Cognac or brandy
4 large free-range eggs, separated
Directions
Edit
Break the chocolate into small pieces, place in a large bowl with 4 tablespoons of water and melt in the microwave.
Stir in the margarine and Cognac and microwave very briefly.
Now stir in the egg yolks. in another bowl, whisk the egg whites until they are stiff and forming firm peaks.
Fold the egg whites into the chocolate mixture using a metal spoon.
Gently spoon the mousse mixture into ramekins and carefully level off.
Cover each mousse with clingfilm (plastic wrap) and chill them for several hours or until they are firmly set.
Remove the clingfilm (plastic wrap) and serve each ramekin on a little plate with a couple of tiny
Ad blocker interference detected!
Wikia is a free-to-use site that makes money from advertising. We have a modified experience for viewers using ad blockers

Wikia is not accessible if you've made further modifications. Remove the custom ad blocker rule(s) and the page will load as expected.