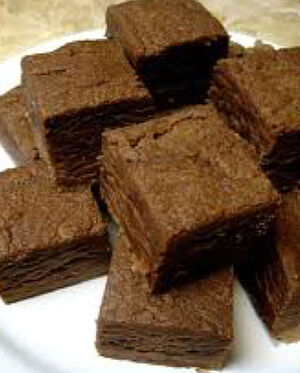 Prep Time:
Cook time:
Serves:
Description
Edit
This is the family recipe for "Grammy's Fudge", a favorite for generations. My grandmother has personally tweaked and toyed with this recipe until achieving the perfect balance of sweetness, richness, and texture. It never fails to be a fantastic gift. It has also always been a great thing to take to a potluck party. You'll be the talk of the town after everyone tries your batch of Grammy's Fudge!
This recipe requires a strong arm to do all the beating, but believe me when I say the payoff is more than worth it! I would recommend having someone to help you with the beating of the mixture, if possible, just to avoid fatigue (which can cause messes). I have made this several times and received nothing but praise for it, and my grandmother has turned it into a tradition to serve it at Christmastime. When put into a pretty tin, it makes a perfect Christmas gift for everyone on your list!
Caroline Sumner
Edit
Ingredients
Edit
2/3 cup unsweetened cocoa
3 cups sugar
1 teaspoon salt
1 teaspoon vanilla
1 1/2 cups non dairy milk
4 1/2 tablespoons non dairy margarine
2 spoons of creamy peanut butter
Directions
Edit
Mix the cocoa, sugar, salt, and milk until well blended. Cook over medium heat, bringing to a boil. Continue cooking until you can drop a bit from teaspoon into a cup of cold water and it forms a soft ball.
Remove from heat. Add vanilla and margarine. Beat until mixture thickens - this may take a while, but keep at it!. Add peanut butter and continue beating until it loses a little of its shine and is thick and creamy.
Pour into a buttered 8 or 9-inch pan. Allow to cool. Cut into squares.
NOTES:
Don't be discouraged if your first attempt isn't perfect (remember, this recipe took my grandmother decades to perfect!). The texture is what most people have difficulty with. Trial and error. No matter what, the flavor will be absolutely outstanding. Worst-case scenario, do what I did the first time I made it and it turned out too runny: turn it into the most outstanding ice cream topping known to man. Trust me, it is never a lost cause. You probably won't have any major problems with it, so don't let this little warning discourage you from trying it out. It is one of the least expensive and most delicious fudge recipes out there!
Ad blocker interference detected!
Wikia is a free-to-use site that makes money from advertising. We have a modified experience for viewers using ad blockers

Wikia is not accessible if you've made further modifications. Remove the custom ad blocker rule(s) and the page will load as expected.