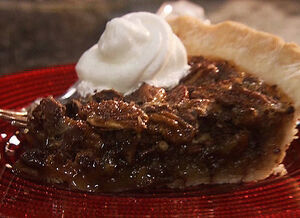 Description
Edit
.
Ingredients
Edit
Directions
Edit
Preheat your oven to 350.
Mix the cookie crumbs with the melted margarine and press into a 9" pie plate, all along the bottom and sides.Bake for ten minutes, the remove from the oven.
While the pie crust is baking, whisk together the soymilk and starch until frothy. Whisk in the syrup and molasses, booze and salt.
Add the remaining ingredients and stir well.
Pour into the pie shell, and bake 40–45 minutes.
Let cool for at least 15 minutes before slicing and serving.
Top each slice with a dollop of tofu whipped cream for a beautiful finish.
See also
Edit
Ad blocker interference detected!
Wikia is a free-to-use site that makes money from advertising. We have a modified experience for viewers using ad blockers

Wikia is not accessible if you've made further modifications. Remove the custom ad blocker rule(s) and the page will load as expected.