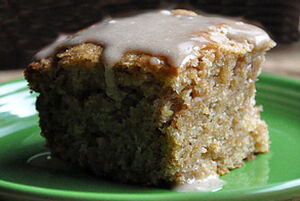 Prep Time:
Cook time:
Serves:
Description
Edit
Cider cake has always been one of my faves ever since my Dad made it for me when I was little and as I've grown up he has stopped making it for me and I learnt to make it. I have managed to adapt the original recipe to make it both dairy and egg free and thought I would share it with you all.
Lisa M
Ingredients
Edit
1 1/3 cups plain flour
1 tsp cinnamon/nutmeg/all-spice ( more can be added depending on taste)
1/2 tsp baking powder
1/4 tsp salt
1 tsp baking soda
1/2 cup dairy-free margarine
3/4 cup granulated sugar
1/3 cup vegetable oil
2 tsp apple cider vinegar
1 tsp vanilla extract
1 1/4 cups cider
Directions
Edit
Mix all the dry ingredients in 1 bowl and all the other ingredients in another bowl.
Add the dry mix into the wet mix gradually, i normally do mine in 3 stages to make sure it all gets whisked up well
I normally make mine in quite a large tray so i end up with a thin cake that cooks quickly-I'm so impatient! Obviously depending on the depth and size of the cake vary the times but I cook on 190 for about 20mins, until risen and golden in colour.


If you'd like to make a glaze (but it's seriously not necessary),
Whisk together 1/2 cup of confectioners' sugar, 2 teaspoons non-dairy yogurt, 3 teaspoons of apple cider, and a dash of cinnamon.

Ad blocker interference detected!
Wikia is a free-to-use site that makes money from advertising. We have a modified experience for viewers using ad blockers

Wikia is not accessible if you've made further modifications. Remove the custom ad blocker rule(s) and the page will load as expected.