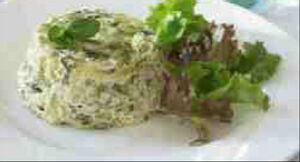 Prep Time: 40 minutes
Cook Time: 30 minutes
Yields: 4
Description
Edit
A light and fresh tasting dish that makes a great summer meal al fresco
Recipe by cookery expert Lorna Rhodes from: http://www.milkfree.org.uk
Ingredients
Edit
500g courgettes
1 tsp salt
5 spring onions, trimmed and finely chopped
2 tsp olive oil
3 large egg yolks
250ml carton dairy-free cream alternative
2 tbsp freshly chopped mint
Directions
Edit
Coarsely grate the courgettes into a colander, sprinkle over the salt and leave to drain for 30 minutes. With your hands, squeeze as much excess water from them as possible placing them on double thickness of kitchen paper to absorb any further excess water.
Pre-heat the oven to 170ºC/gas mark 3. Lightly grease the inside of four ramekin dishes with a little of the oil. Heat the remainder in a large non-stick pan, add the spring onions and courgettes and toss together over a high heat for 2 minutes. Remove from the heat, place a little of the mixture in the base of each ramekin, just to cover the base.
In a large bowl, beat the egg yolks with cream, add the rest of the courgettes and mint and season with a little black pepper and fold together.
Spoon into the dishes, place on a baking tray then put into the oven to bake for about 30 minutes.
Remove and allow to cool. Refrigerate until needed. Run a knife around the edge of each flan and turn out onto a plate. Serve with a little green salad to garnish.
Ad blocker interference detected!
Wikia is a free-to-use site that makes money from advertising. We have a modified experience for viewers using ad blockers

Wikia is not accessible if you've made further modifications. Remove the custom ad blocker rule(s) and the page will load as expected.