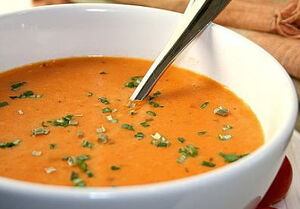 Description
Edit
Ok, recipe for some really awesome tomato soup. It is *not* low in fat although it probably could be altered to be lower in fat than it actually is. The original recipe came from The New Basics cookbook and has been shamelessly altered since.
Ingredients
Edit
Directions
Edit
Melt the margarine in a large pot, saute the onions, carrots, and garlic until the onions just start to carmelize (I usually add the garlic somewhat later so it doesn't burn). Add the tomatoes, stock, and spices except the fresh basil and cook for 5 minutes. Add the basil and cook for 50 minutes or until the vegetables are soft. In batches, puree soup in a blender and return to the pot, or you can use an immersion blender which will also work but the veggie pieces won't be quite as small. Add the cream and heat through. Adjust seasonings, serve with some of the additional basil sprinkled on top. Very good with fresh bread.
See also
Edit
Ad blocker interference detected!
Wikia is a free-to-use site that makes money from advertising. We have a modified experience for viewers using ad blockers

Wikia is not accessible if you've made further modifications. Remove the custom ad blocker rule(s) and the page will load as expected.