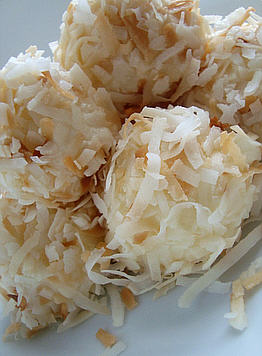 Prep Time:
Cook time:
Serves:
Description
Edit
Ingredients
Edit
4 large free-range egg yolks
1 heaped teaspoon of Gluten free cornflour (cornstarch)
2 heaped tablespoons of caster (superfine) sugar
400 ml (4 fl oz) 1 1/2 cups of coconut milk
5 heaped tablespoons of desiccated (shredded) coconut
200 ml (7 fl oz) 3 1/2 cup of coconut cream
2 tablespoons of toasted coconut pieces
Directions
Edit
Make the ice-cream by mixing the egg yolks, cornflour (cornstarch) and sugar together in a bowl, and slowly adding the coconut milk.
Transfer to a saucepan, add the desiccated (shredded) coconut and cook over a low heat, stirring all the time.
Cook until thick and smooth, then remove from the heat and transfer to a bowl.
Stir in the coconut cream.
Once it is cool, pour the custard into your prepared ice-cream maker and churn until frozen and smooth (probably about 20 minutes).
Serve scoops of ice-cream scattered with toasted coconut pieces
Ad blocker interference detected!
Wikia is a free-to-use site that makes money from advertising. We have a modified experience for viewers using ad blockers

Wikia is not accessible if you've made further modifications. Remove the custom ad blocker rule(s) and the page will load as expected.