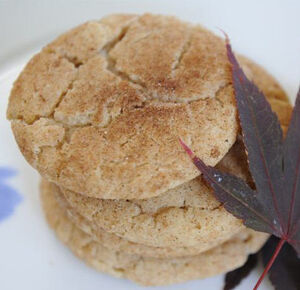 Prep Time:
Cook Time:
Yields:
Description
Edit
This is one of the few snickerdoodle recipes that does not use shortening. The secret ingredient is pure maple syrup with cinnamon, sugar, and pumpkin pie spice.
Ingredients
Edit
2 cups all-purpose flour
1 1/2 teaspoons baking powder
1/4 teaspoon baking soda
2 teaspoons ground cinnamon
1/2 cup butter, softened
1 cup white sugar
3 tablespoons real maple syrup
1 egg (room temperature)
1/2 cup white sugar
1/4 cup maple sugar (if you can't find maple sugar, use a combination of 1/4 cup sugar, 2 tablespoons of cinnamon, and a pinch of pumpkin pie spice).
Directions
Edit
Preheat oven to 350 degrees F (175 degrees C). Stir together the flour, baking powder, baking soda, and cinnamon. Set aside.
2. In a large bowl, cream together the margarine and 1 cup of white sugar until light and fluffy. Beat in the egg and maple syrup. Gradually blend in the dry ingredients until just mixed. In a small dish, mix together the remaining 1/2 cup white sugar and the maple sugar. Roll dough into 1 inch balls, and roll the balls in the sugar mixture. Place cookies 2 inches apart on ungreased cookie sheets.
3. Bake 8 to 10 minutes in the preheated oven. Cookies will be crackly on top and look wet in the middle. Remove from cookie sheets to cool on wire racks.
Recipe from cinnybear
Ad blocker interference detected!
Wikia is a free-to-use site that makes money from advertising. We have a modified experience for viewers using ad blockers

Wikia is not accessible if you've made further modifications. Remove the custom ad blocker rule(s) and the page will load as expected.