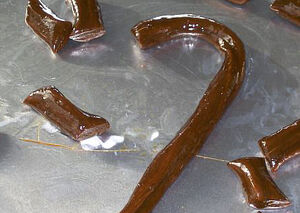 Prep Time:
Cook time:
Serves: 4 dozen pieces
Description
Edit
An old-fashioned candy that requires pulling.
Ingredients
Edit
2 cups molasses
1 cup brown sugar
1 tablespoon non dairy margarine
1 tablespoon vinegar
Directions
Edit
Combine molasses, brown sugar, and butter in heavy saucepan. Bring to a boil, cover, and continue boiling gently until mixture reaches 248 degrees F or the hard ball stage (when a bit of syrup dropped into cold water forms a firm ball that isn't sticky).
Remove from heat, stir in vinegar, and pour onto buttered platter. Do not refrigerate, but allow to cool gradually at room temperature.
As soon as candy is cool enough to handle (it will be somewhat sticky) with buttered hands gather it into a ball and with the help of a friend or a hook on the wall, begin to pull it briskly. Pull until candy whitens and is cold.
Cut into bite-sized pieces and wrap in waxed paper, twisting the ends of the paper to keep it in place.
Ad blocker interference detected!
Wikia is a free-to-use site that makes money from advertising. We have a modified experience for viewers using ad blockers

Wikia is not accessible if you've made further modifications. Remove the custom ad blocker rule(s) and the page will load as expected.