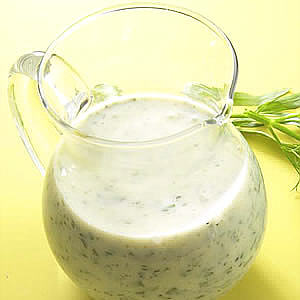 Description
Edit
Always check the ingredients to make sure the product is dairy free.
Ingredients
Edit
The Super Easy Slacker way:
1 package of Hidden Valley Ranch dip mix (the dip mix has no dairy, but the dressing mix does have dairy, so be careful)
12.5 oz package of Mori-Nu firm silken tofu
or
The Spicy Ranch Dressing from Scratch Way:
SPICES: You should use between 1/8 and 1/4 of each of these, depending on how spicy or how peppery you want it:
Directions
Edit
SLACKER WAY: Blend the mix and tofu in a blender or food processor. Add enough soy milk to make it the right consistancy.. you might not want to add any if you'll be using it as a dip, but you'll need to add some to make it "pourable" as a dressing. Then just chill and eat!
FROM SCRATCH: Whisk all ingredients together in a bowl until blended.
See also
Edit
Ad blocker interference detected!
Wikia is a free-to-use site that makes money from advertising. We have a modified experience for viewers using ad blockers

Wikia is not accessible if you've made further modifications. Remove the custom ad blocker rule(s) and the page will load as expected.