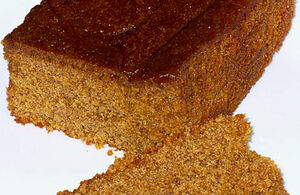 Prep Time: 10 minutes
Cook time: 45 minutes
Serves:
Description
Edit
A traditional Yorkshire recipe for a Bonfire Night treat. This yummy ginger cake recipe will get you fired up
Ingredients
Edit
1/2 level tsp (2.5 ml) Bicarbonate of soda (Baking soda)
1 1/4 cup (1/2 pint) 300 ml soy milk
8 oz (225 g) treacle (molasses)
8 oz (225 g) golden syrup (substitute light corn syrup)
1 stick (8 Tbsp)4 oz (100 g) dairy free margarine
4 1/2 cups (450 g) 1 lb plain flour (All purpose)
350 g (12 oz) medium oatmeal
1 level tsp (5 ml) salt
1/4 cup (50 g) 2 oz brown sugar
2 level tsp (10 ml) ground ginger
1 egg, beaten
Directions
Edit
Butter a 23 cm (9 inch) square cake tin.
Dissolve the soda in the soy milk. Melt the treacle, syrup and butter together.
Mix all the dry ingredients together, pour in the melted butter mixture, stir well, add the egg and milk; stir well. Turn into the prepared tin.
Bake in the oven at 180c (350°F) mark 4 for 45 minutes. Turn out of the tin when cold. Store in an airtight container for at least one week before eating.
Ad blocker interference detected!
Wikia is a free-to-use site that makes money from advertising. We have a modified experience for viewers using ad blockers

Wikia is not accessible if you've made further modifications. Remove the custom ad blocker rule(s) and the page will load as expected.