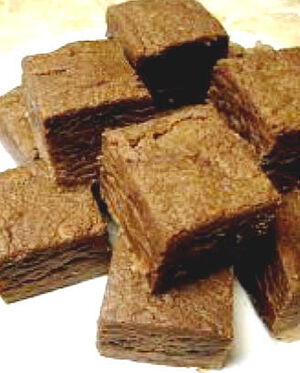 Prep Time:
Cook time:
Serves: 36 pieces
Description
Edit
From 500 Vegan Recipes Made with coconut milk, this fudge is very creamy and moist!
Take extra special care when bringing the mix to a boil, because if the temperature isn't just right, your fudge will not set, and it would be very sad to have wasted all those ingredients!!!
Ingredients
Edit
1 1/2 cups (384 g) creamy no stir peanut butter
1 cup (176 g) nondairy semisweet chocolate chips
1 tablespoon (15 ml) pure vanilla extract
1 cup (235 ml) full fat coconut milk
3 cups (300 g) granulated sugar
Directions
Edit
Line an 8-inch (20-cm) or 9-inch (23-cm) square baking pan with aluminum foil or parchment and lightly spray with nonstick spray.
In a large heat resistant mixing bowl, mix together peanut butter, chocolate chips, and vanilla.
In a saucepan, mix together coconut milk and sugar. Bring to a FULL boil. (Big rolling bubbles, not little ones.) Boil for exactly one minute.
Pour the coconut mixture into the peanut butter mixture and stir vigorously until well combined and the chocolate begins to melt. It won't completely melt, and thats okay, it will marble with the peanut butter as it hardens. You have to work very quickly as the mixture will begin to set almost immediately.
Immediately pour into the foil lined pan and let sit to cool and harden completely...about an hour.
Cut into small squares and enjoy.
Ad blocker interference detected!
Wikia is a free-to-use site that makes money from advertising. We have a modified experience for viewers using ad blockers

Wikia is not accessible if you've made further modifications. Remove the custom ad blocker rule(s) and the page will load as expected.