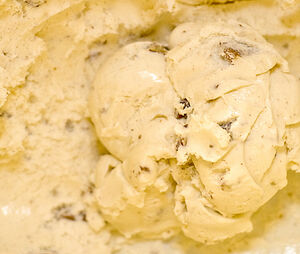 Prep Time:
Cook Time:
Yields:
Description
Edit
Ingredients
Edit
For Praline:
55 g (2 oz) scant 1/4 cup caster sugar
55 g (2 oz) 1/2 cup chopped blanched almonds (or other nuts of your choice)
For Ice Cream:
1 teaspoon cornflour (cornstarch)
4 large free-range egg yolks
40g (1 1/2 oz) caster sugar
300 ml (10 fl oz) 1 1/4 cups soya milk
1 vanilla pod, split
240 ml (8 fl oz) 1 cup of soya cream
1 teaspoon vanilla extract
Directions
Edit
Make the praline first by quickly melting the sugar with the almonds in a saucepan until they turn dark golden brown.
Leave the mixture to cool. When the praline is cold put it into a plastic bag and bash with a rolling pin until it resembles breadcrumbs (alternatively grind to a powder in a food processor).
Now make the ice-cream by quickly mixing the cornflour (cornstarch) with the egg yolks and a little of the milk until you have a smooth paste.
Continue adding the milk and then pour the liquid into a saucepan to cook.
Add the vanilla pod and then stir continuously until the custard is very thick and hot - but do not boil.
Remove the pan from the heat and take out the pod (wash it under warm water, then dry it so that you can re-use it).
Now add the cream and blend briefly. mix in the vanilla extract and the praline and leave to cool.
Follow the instructions on your ice-cream maker and pour in the custard.
Churn until frozen and then serve, or freeze in a scalable container.
Ad blocker interference detected!
Wikia is a free-to-use site that makes money from advertising. We have a modified experience for viewers using ad blockers

Wikia is not accessible if you've made further modifications. Remove the custom ad blocker rule(s) and the page will load as expected.