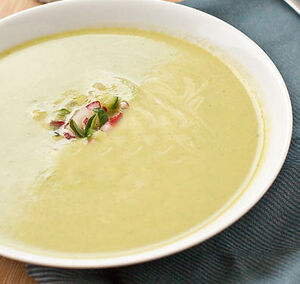 Description
Edit
Special note:
This pea soup recipe has been in my family longer than anyone can remember, and is AT LEAST as old as my great, great grandmother, probably older than that even. It is my favorite soup ever, and now it is my husband's fave too. This is a vegan version, although it is lacto-vegetarian normally. Meat was only added to the soup by certain members of the family, and typically only for company.
Ingredients
Edit
Directions
Edit
Wash and rinse the split peas, drain, and put in a large pot. Add the 5 cups of water, and bring to a rolling boil. Let boil 2 minutes, turn the heat off and cover for 1 hour.
Add the carrots, onions, and half of the oil. Bring back to a boil, cover, then let simmer for 1 hour or until the onions are translucent. If a creamier, thicker consistency is desired, let it cook longer.
Ad blocker interference detected!
Wikia is a free-to-use site that makes money from advertising. We have a modified experience for viewers using ad blockers

Wikia is not accessible if you've made further modifications. Remove the custom ad blocker rule(s) and the page will load as expected.