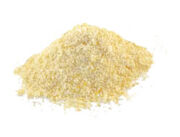 Prep Time:
Cook time:
Serves:
Description
Edit
Grated hard cheese replacer.
Sprinkle soy Parmesan wherever you would normally use Parmesan cheese.
Ingredients
Edit
1/2 cup 70g (150ml) Soya Flour
1 Tbsp / 15ml Vegetable or Olive Oil
1 tsp / 5ml Salt
Citric acid powder to taste
non-dairy butter flavouring to taste
Directions
Edit
Mix together
Add citric acid powder and butter flavour to taste.
Adjust salt to taste
White wine vinegar can also be used instead of citric acid powder. However it will make a wetter mix, that will need to be dried out. This is best done by leaving in an open container in the refigerator.
Ad blocker interference detected!
Wikia is a free-to-use site that makes money from advertising. We have a modified experience for viewers using ad blockers

Wikia is not accessible if you've made further modifications. Remove the custom ad blocker rule(s) and the page will load as expected.