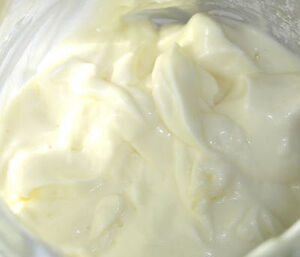 Description
Edit
This makes a thick mayonnaise.
Other flavours such as garlic, onion powder, herbs etc can be added to taste.
Dilute with soya milk if required
Ingredients
Edit
150ml soy milk
1/2 tsp mustard (or 1/4tsp cayenne pepper)
1 tbsp brown sugar
1 tbsp vinegar (or lemon jiuce)
1/2 tsp salt
pepper to taste
200ml oil (canola or sunflower)
Directions
Edit
Place all except oil in blender.
Turn blender on high speed, and slowy pour in oil, until hole in center of the mixture closes up and mixture stops moving around.
Keeps for up to 2 weeks in sealed container in refrigerator.
Ad blocker interference detected!
Wikia is a free-to-use site that makes money from advertising. We have a modified experience for viewers using ad blockers

Wikia is not accessible if you've made further modifications. Remove the custom ad blocker rule(s) and the page will load as expected.