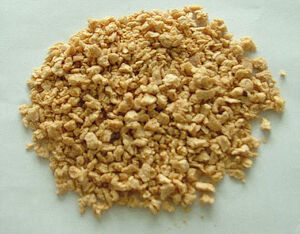 Description
Edit
Textured or texturized vegetable protein (TVP), also known as textured soy protein (TSP), soy meat, or soya meat is a meat analogue or nutritious meat extender made from defatted soy flour, a by-product of extracting soybean oil.
It is quick to cook, with a protein content equal to that of the meat it is replacing, and contains no fat.
It is not to be confused with hydrolyzed vegetable protein, which is commonly used as a source of glutamate in various seasonings and imitation soy sauce.
Ad blocker interference detected!
Wikia is a free-to-use site that makes money from advertising. We have a modified experience for viewers using ad blockers

Wikia is not accessible if you've made further modifications. Remove the custom ad blocker rule(s) and the page will load as expected.