Description
Edit
This magical Italian dessert is claimed to be divine in taste, made in a rather elaborate process (perhaps you don't often find ladyfingers to be used in a sweet dish!) with eggs, mascarpone cheese, ladyfingers, cream, espresso coffee, liquor (brandy, marsala, rum etc.,), sugar and cocoa or grated chocolate.
Ingredients
Edit
Coffee syrup
Edit
Custard filling
Edit
Directions
Edit
Coffee syrup
Edit
In small saucepan, bring water to a boil.
Remove from heat.
Stir in sugar, instant coffee and vanilla extract.
Set aside.
Custard filling
Edit
Set pan over simmering (not boiling) water, and cook, whisking constantly, until mixture thickens, about 8 minutes.
Stir in vanilla extract.
Remove pan from water, and let cool.
Cover, and refrigerate until chilled.
To assemble
Edit
Line a long rectangular pâté mold with plastic wrap (alternatively, use a large, unlined soufflé dish) place half the ladyfingers in layer on bottom.
Brush ladyfingers with coffee syrup.
Spread half custard mixture on top of ladyfingers.
Sprinkle with some cocoa-cinnamon mixture.
Repeat with remaining ladyfingers, syrup and custard, topping custard with dusting of cocoa-cinnamon mixture.
Cover, and refrigerate at least 2 hours before serving.
Tiramisu Videos
Edit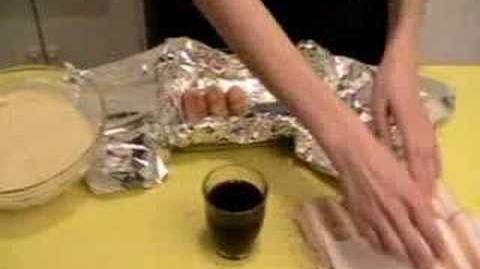 Ad blocker interference detected!
Wikia is a free-to-use site that makes money from advertising. We have a modified experience for viewers using ad blockers

Wikia is not accessible if you've made further modifications. Remove the custom ad blocker rule(s) and the page will load as expected.