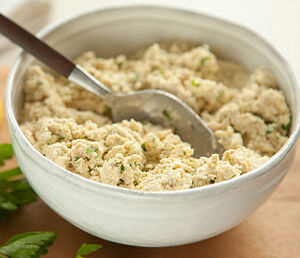 Prep Time:
Cook Time:
Yields:
Description
Edit
Use this vegan ricotta as a substitute for the traditional dairy version when you make lasagna, pizza or stuffed shells and manicotti.
Ingredients
Edit
1 (14-ounce) block extra firm tofu, drained and crumbled
1 1/2 tablespoons tahini
2 cloves garlic, finely chopped
3 tablespoons nutritional yeast
Pinch of freshly ground nutmeg
1/2 tablespoon mellow white miso
1 tablespoon lemon juice
1/4 teaspoon ground black pepper
Directions
Edit
In a medium bowl, mash all ingredients together with the back of a spoon until well combined.
Ad blocker interference detected!
Wikia is a free-to-use site that makes money from advertising. We have a modified experience for viewers using ad blockers

Wikia is not accessible if you've made further modifications. Remove the custom ad blocker rule(s) and the page will load as expected.