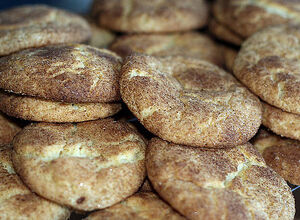 Description
Edit
Named after you know who. Ho Ho Ho. Enjoy!
Ingredients
Edit
Directions
Edit
Preheat your oven to 300 F.
In a large bowl, cream the margarine and Sugar together until smooth. Add the vanilla, and the cornstarch/soymilk mixture, and beat until well-mixed.
In a smaller bowl combine the flour, baking soda, salt, and tapioca/corn starch. Stir this into the wet ingredients and combine well.
In a very small bowl stir together the granulated sugar, cinnamon and cocoa powder (if desired).
Begin rolling the cookie dough into balls of about 3 tbsp each. Roll each ball in the cinnamon/Sugar/cocoa powder mixture until completely coated and place on an ungreased baking sheet. Continue until all the dough is used up. Using the bottom of a glass, press down on each ball until they are about an inch thick. Bake for 12 – 14 minutes, and no more. The cookies should still seem very soft when you remove them from the oven. Let cool on the pans for about 10 minutes, and then transfer to a wire baking rack and let cool completely.
Makes about 30 cookies. This recipe can be halved, if desired.
See also
Edit
Ad blocker interference detected!
Wikia is a free-to-use site that makes money from advertising. We have a modified experience for viewers using ad blockers

Wikia is not accessible if you've made further modifications. Remove the custom ad blocker rule(s) and the page will load as expected.