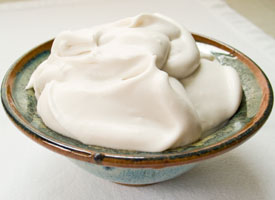 Prep Time:
Cook Time:
Yields: 4 - 6
Description
Edit
Simple, but rich and delicious, coconut whipped cream recipe adapted from 'Dairy Free Made Easy', a handy reference for dairy free living, by Alisa Marie Fleming.
Alisa's recipe called for rice milk powder, which we couldn't find, so we substituted coconut flour or tapioca flour, and simplified the recipe a bit.
Cooking Tips: You'll need an electric mixer, blender or blender stick to make coconut whipped cream. Use a rubber spatula to get ALL the coconut milk out of the cans.
Ingredients
Edit
1 1/2 cups full fat coconut milk, from two 13.5 oz cans
1/3 cup powdered sugar or to taste
1 - 4 Tbsp coconut flour or tapioca flour (add 1 Tbsp at a time)
1 Tbsp vanilla extract (or other or to taste)
Directions
Edit
Open the cans of coconut milk, transfer to a glass or metal bowl using a rubber spatula
Cover with a lid, plate, or plastic wrap and refrigerate at least 4 hours, or overnight
Beat the thick coconut cream in the chilled bowl with a hand mixer until thick and fluffy
Gradually beat in the powdered sugar and flour 1 or 2 Tbsp at a time, testing for flavor and consistency
For flavored whipped cream, add some cinnamon, instant coffee, or cocoa powder (you may want to increase the sugar a bit); or replace the vanilla with almond or coconut extract or a liqueur
Using a rubber spatula, transfer the coconut cream to a covered storage container, and refrigerate until needed
Ad blocker interference detected!
Wikia is a free-to-use site that makes money from advertising. We have a modified experience for viewers using ad blockers

Wikia is not accessible if you've made further modifications. Remove the custom ad blocker rule(s) and the page will load as expected.